YOGA SATURDAYS
A DAY'S YOGA ON SATURDAYS

10.30 am - 4.00 pm
These are held every other month with Robin together with various colleagues
ENJOY A DAY'S YOGA WITH ROBIN AND A COLLEAGUE TEACHER
IN A LOVELY SETTING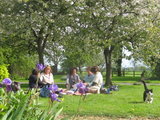 Yoga Day - Some students take a lunch break in the orchard
The days take place in the yoga barn every other month. They are open to students who have some experience of yoga. The days are themed, focussing on different aspects of yoga practice. The morning session usually concentrates on posture, often including some flowing sequences. There is a break for lunch followed by a gentler more meditative, relaxing afternoon session. Each yoga day provides a complete and balanced practice.
Spending a few hours doing yoga and meeting other yoga students in such a lovely setting gives students the feeling of attending a mini retreat.
Most students who are new to doing a day's yoga are suprised to discover how quickly the time passes and that the day is not at all tiring, but the opposite, refreshing and invigorating.
All the teachers who share these yoga days with Robin are very experienced and hold British Wheel of Yoga teachers' diplomas or equivalent. All are fully insured and comply with the professional standards set by the British Wheel of Yoga.
Cost
With lunch £38 Without lunch £34
Fliers for each yoga day are sent out to the emailing list about one month in advance of the day.
To request to be on my emailing list for these yoga days please click here
--------------------